ABT-263 (Navitoclax)
Potent Bcl-2 family inhibitor, inhibits Bcl-2, Bcl-xL, and Bcl-w
Sample solution is provided at 25 µL, 10mM.
Related Compound Libraries
Quality Control
Quality Control & MSDS
View current batch:
Chemical structure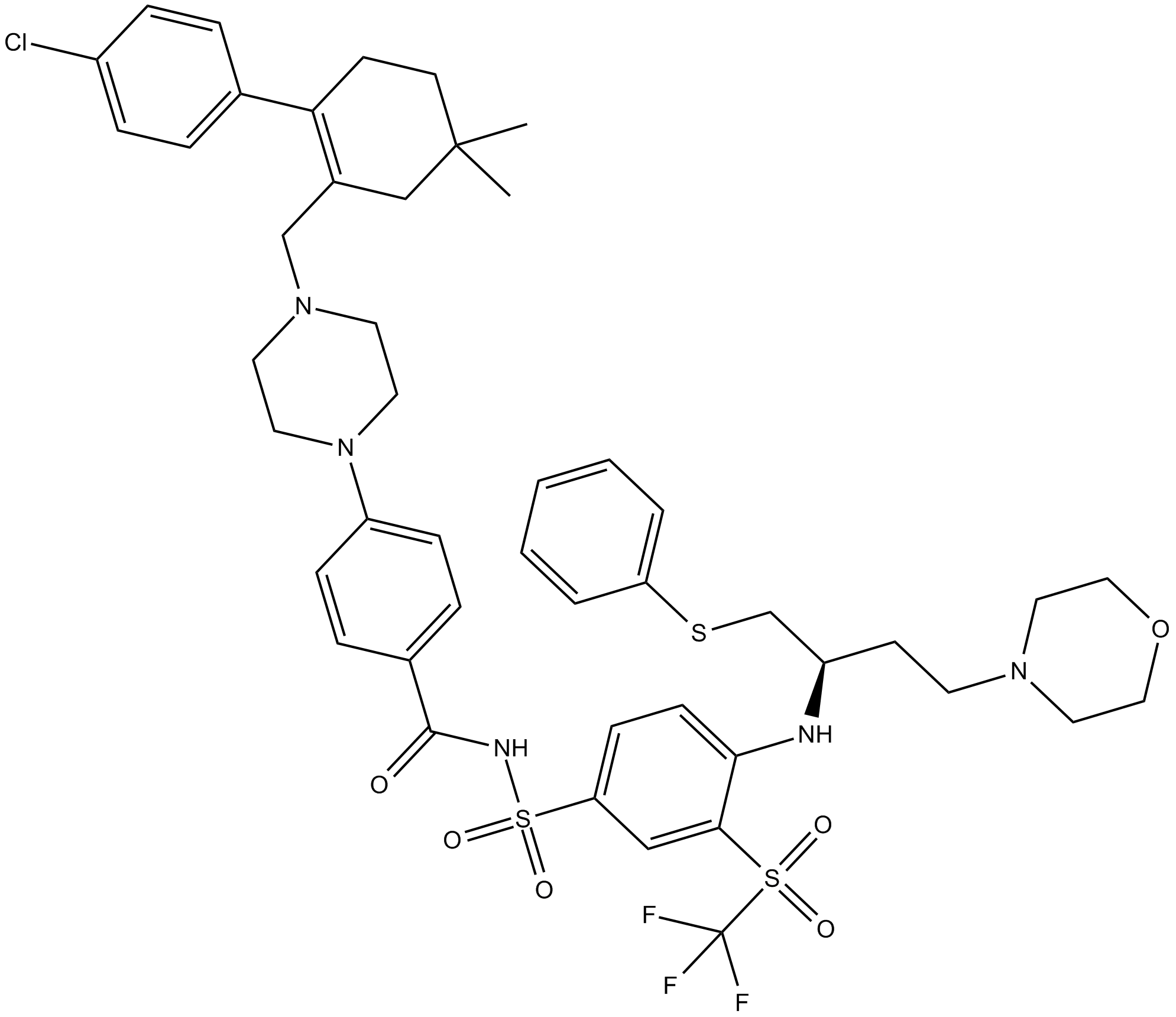 Related Biological Data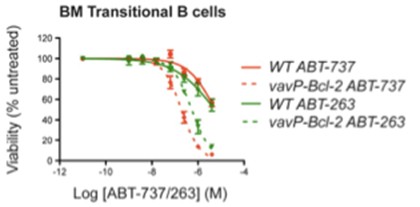 ABT-737, or ABT-263 at the indicated doses for 24 hours. Survival data are shown for transitional B cells (n = 3 mice for each genotype) and are the results of 3 independent experiments, each performed in triplicate. Experiments depicted in panels C and D were performed concurrently. Values represent mean ± SEM.
Related Biological Data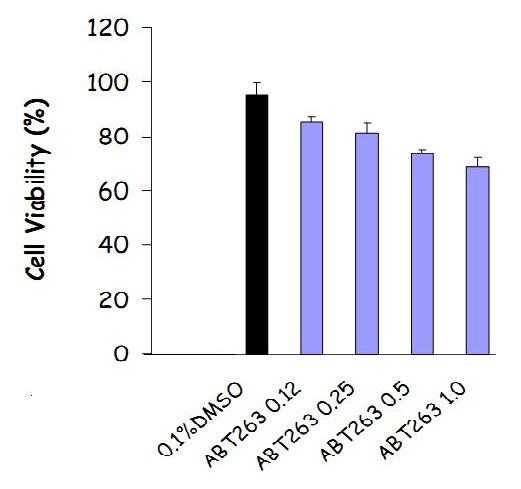 As an inhibitor of Bcl-2, ABT263 is effective to reduce cell viability in HG3-CLL cells. Incubating the cells with ABT263 in 96 well plates (3×104 cells per well) for 24h shows a dose-dependent inhibition of cell viability with EC50 value of 2μM.[Source: Istituto di Scienze dell' Alimentazione]
Related Biological Data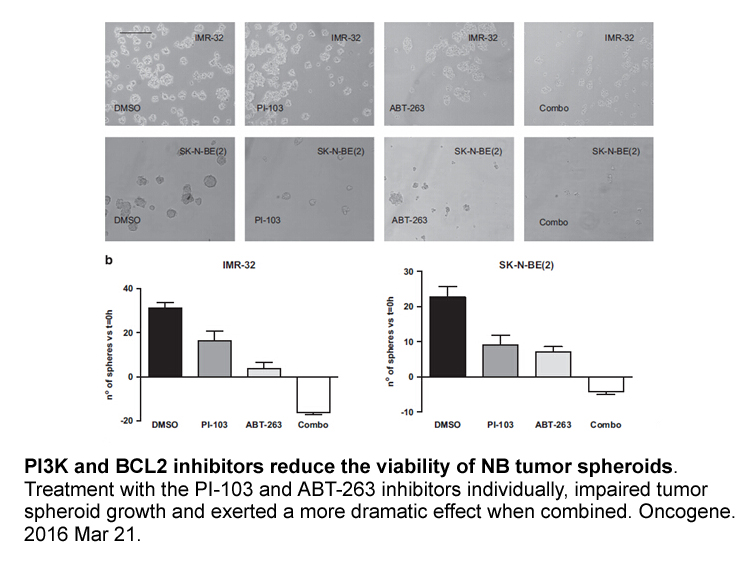 Related Biological Data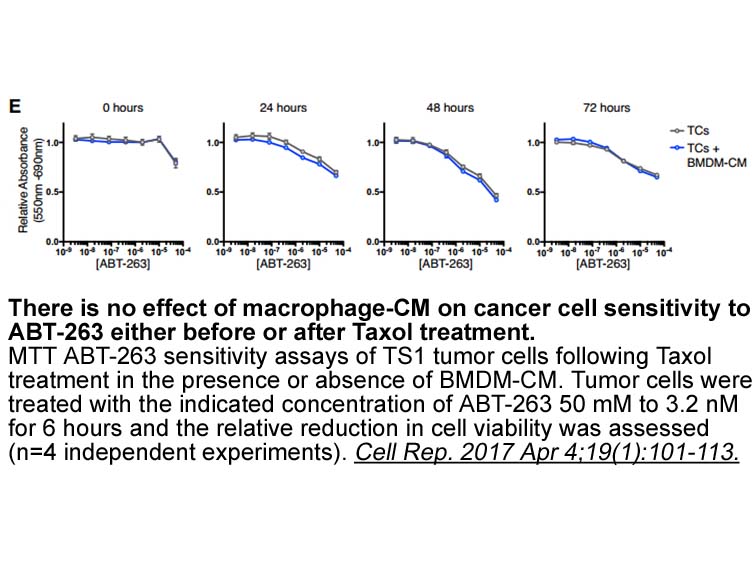 Related Biological Data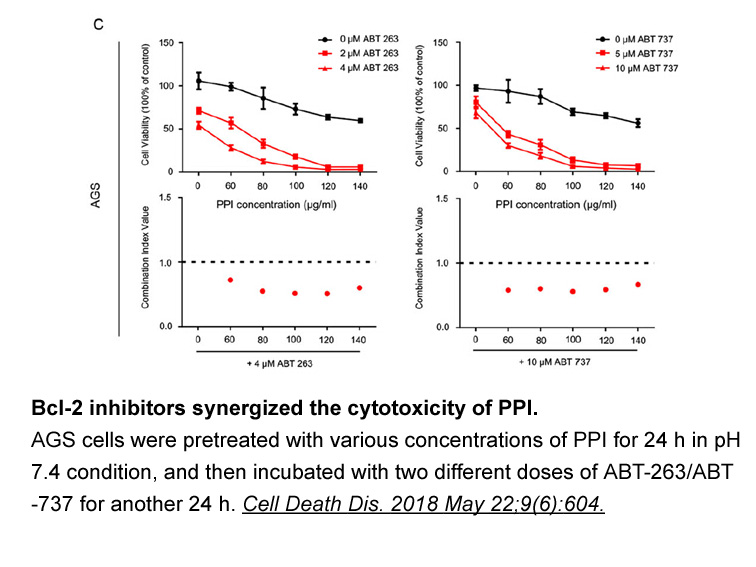 Biological Activity
ABT-263 (Navitoclax) is a potent inhibitor of Bcl-xL, Bcl-2 and Bcl-w with Ki of ≤ 0.5 nM, ≤1 nM and ≤1 nM.
Targets
Bcl-xL
Bcl-2
Bcl-w
IC50
≤ 0.5 nM (Ki)
≤1 nM (Ki)
≤ 1 nM (Ki)
Protocol
Cell experiment:[1]

Cell lines

Murine DO11.10 T-hybridoma cells expressing murine Bcl-2, Bcl-xL and Bcl-w proteins

Preparation method

The solubility of this compound in DMSO is >10 mM. General tips for obtaining a higher concentration: Please warm the tube at 37 °C for 10 minutes and/or shake it in the ultrasonic bath for a while.Stock solution can be stored below -20°C for several months.

Reaction Conditions

None specifc suggestion

Applications

ABT-263 is an antitumor effector in preclinical and early clinical studies. It binds to Bcl-2, Bcl-xL, and Bcl-w in vitro, but only targets Bcl-2 in vivo. In human non-Hodgkin lymphomas, high expression of Bcl-2 sensitized to ABT-263 elevated proapoptotic Bim.

Animal experiment:[2]

Animal models

Immune-deficient NOD/SCID or NOD/SCID, ILγ receptor negative mice

Dosage form

Orally taken at 100 mg/kg/day for 21 days

Applications

ABT-263 can largely inhibited the activity of patient-derived pediatric acute lymphoblastic leukemia xenograft. ABT-263 sensitivity was correlated with low MCL1 mRNA expression levels. BH3 profiling revealed that resistance to ABT-263 correlated with mitochondrial priming by NOXA peptide.

Other notes

Please test the solubility of all compounds indoor, and the actual solubility may slightly differ with the theoretical value. This is caused by an experimental system error and it is normal.

References:

1. Mérino D1, Khaw SL, Glaser SP et al. Bcl-2, Bcl-x(L), and Bcl-w are not equivalent targets of ABT-737 and navitoclax (ABT-263) in lymphoid and leukemic cells.Blood. 2012 Jun 14;119(24):5807-16.

2. Suryani S, Carol H, Chonghaile TN et al. Cell and Molecular Determinants of In Vivo Efficacy of the BH3 Mimetic ABT-263 against Pediatric Acute Lymphoblastic Leukemia Xenografts. Clin Cancer Res. 2014 Jul 10.
Chemical Properties
Cas No.
923564-51-6
SDF
Download SDF
Synonyms
Navitoclax,ABT-263,ABT263,ABT 263
Chemical Name
(R)-4-(4-((4'-chloro-4,4-dimethyl-3,4,5,6-tetrahydro-[1,1'-biphenyl]-2-yl)methyl)piperazin-1-yl)-N-((4-((4-morpholino-1-(phenylthio)butan-2-yl)amino)-3-((trifluoromethyl)sulfonyl)phenyl)sulfonyl)benzamide
Canonical SMILES
CC(CC1)(C)CC(CN2CCN(C3=CC=C(C(NS(C4=CC=C(N[C@@H](CSC5=CC=CC=C5)CCN6CCOCC6)C(S(C(F)(F)F)(=O)=O)=C4)(=O)=O)=O)C=C3)CC2)=C1C7=CC=C(Cl)C=C7
Formula
C47H55ClF3N5O6S3
M.Wt

974.61

Solubility
>48.7mg/mL in DMSO
Storage
Desiccate at -20°C
Shipping Condition
Evaluation sample solution : ship with blue ice.All other available size: ship with RT , or blue ice upon request
General tips
For obtaining a higher solubility , please warm the tube at 37 ℃ and shake it in the ultrasonic bath for a while.Stock solution can be stored below -20℃ for several months.
Background
ABT-263 is an orally sellecitive inhibitor of B-cell leukemia 2 (Bcl-2) family of proteins with potential antineoplastic activity. ABT-263 is a small molecular with the formula of C47H55ClF3N5O6S3 and Molecular Weight of 974. As a Bad-like Bh3 minetic, ABT-263 binds to Bcl-2 family proteins Bcl-2, Bcl-xl and Bcl-w, disrupts the interaction between Bcl-2/Bcl-xl /Bcl-w and pro-apoptotic proteins such as Bim, Bad and Bak, which trigger the caspases-initiated cell death pathway to induce apoptosis.
References:
1. Tse et al., ABT-263: A Potent and Orally Bioavailable Bcl-2 Family Inhibitor. Cancer Res. 2008, 68, 3421-3428. 
2. Shoemaker et al., Activity of the Bcl-2 Family Inhibitor ABT-263 in a Panel of Small Cell Lung Cancer Xenograft Models. Clin. Cancer Res. 2008, 14, 3268-3277